Our aim
The Friends of Lenzie Moss is a voluntary association dedicated to conserving the Moss for the benefit of present and future generations by all possible means: through education, liaison with official bodies, and appropriate environmental management.
Details of recent activities and work on Lenzie Moss can be found in our NEWS page.
Details of future events on Lenzie Moss can be found in our THINGS TO DO page.
What's happening on the Moss ?
Although signs of Spring are few and far between at Lenzie Moss, life is still there. The long yellow tails of male Hazel Catkins are easily seen while the tiny red female flower, which eventually forms the Hazelnut, is much harder to find. You may see small groups of small birds feeding high in the tops of the birch trees surrounding the moss. These are most likely flocks of Long Tailed Tits, Redpoll or mixed Tit flocks of Blue Tit and Coal Tit. These birds are searching for morsels such as spiders and wintering caterpillars. They continually call to each other making sure that no-one loses the main group.
Sounds of Spring can be heard at the Moss. The uplifting song of the male Skylark on a sunny day is one of the joys of Lenzie Moss. The male bird flies higher and higher into the sky, singing as he goes, until he is only a speck in the sky. Try to find a Skylark by following his song.
Meadow Pipits can also be seen. The males display in the Spring by sailing slowly down, from high in the sky to the ground, with their wings outstretched and also singing away. This is called Parachuting. Both Skylarks and Meadow Pipits nest on the ground among the tussocks of moss and heather. This is why it is important to keep your dog close to you during the nesting season, which is April to late August. Disturbance can means that eggs or nestlings are abandoned.
Meadow Pipit nests are often targeted by Cuckoos (Summer Migrants from Africa) who lay one of their eggs in the nest. The hatchling kills the other chicks and is looked after by its surrogate parents.
Look for early Queen Bumble Bees buzzing around on sunny early Spring days. They are looking for suitable places to form a colony of about 150 to 200 Bumble Bees. Disused mouse holes or grassy tussocks are ideal. Unlike Honey Bees, the colony only lives for one year. Come the autumn all bees, apart from the fertilised new Queen Bee, die while she finds a suitable spot to sleep through the winter.
Join and help make a difference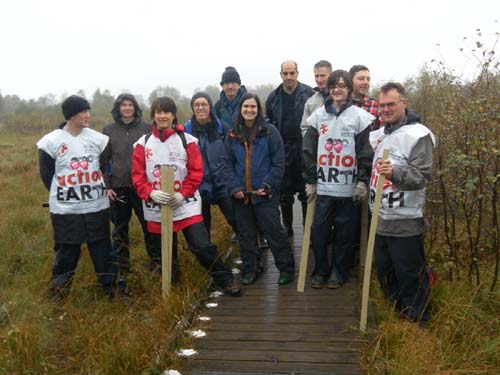 Volunteers gather to add anti-slip strips to the walkway
Why don't you join us and help preserve your local nature reserve for a very small cost. All funds are directed back to conservation work and publicity for Lenzie Moss. By joining Friends of Lenzie Moss you will also receive two newsletters every year, containing a variety of articles relating to Lenzie Moss and forthcoming events. By joining you can ensure that supporters views on important issues such as planning developments and path changes are taken into consideration.
Download the Friends of Lenzie Moss Subscription Form here
We would welcome new committee members. The committee meets three times a year in addition to the AGM. Our main activities are to co-ordinate each year's activities on the Moss - and lead some of them too; liaise with the Mugdock Rangers and EDC's Neighbourhood Services officer about conservation work; and apply for grant funding when it's needed. We have also been concerned with the housing development proposals that could have affected the Moss adversely. If you would like to get involved with any of these activities, or just like to join us as a supporting committee member, we would love to hear from you. Contact details can be found on the CONTACT US page.
Map of Lenzie Moss
Zoom in for more detail. There are several entrances to the Moss. If you are new to the area we recommend you enter from Lenzie station car park. There is a 2km circular path which is mainly flat with a section on boardwalk across the bog. You will find signposts at several points linking to other walks.